Waller BMX - Frames Explained

Choosing a new frame can be complicated but when you know what you're looking for it's easy. The differences most people should consider when choosing a new frame are the following;

Frame geometries, Bottom Bracket (BB) type, dropout size and whether the frame is brakeless or not.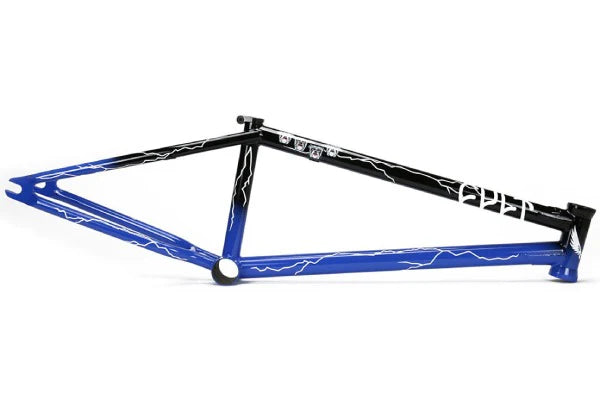 Frames Geometries - These affect how the bike responds when riding and making any change in movement.

The Head tube (HT) angle affects the responsiveness when turning and generally speaking a mellow HT angle would give a more relaxed/stable response which is great for trails or racing whereas a steeper HT angle would respond quicker which is usually better for nose manuals and front end technical tricks.

The Seat tube (ST) angle in BMX today doesn't change a huge amount and ranges from about 69° to 71° degrees. The difference when opting for the 69° ST angle frame is that it moves the Bottom Bracket (BB) closer to the HT which makes the frame feel shorter. So, a 69° ST frame with a 21" Top Tube (TT) would feel shorter when riding than a 71° degree ST frame with a 21" TT.

Standover Height (SO) is measured from the centre point of the BB to the centre point where the ST, TT and Seat Stay (SS) meet at the top of the ST. Usually park riders ride smaller SO heights as it's easier to whip around and get your legs back on whereas street riders may opt for a higher SO making it easier to nip the frame with your knees for barspins.

Chainstay (CS) lengths dramatically change the feel of a bike depending on whether you opt for a shorter or longer CS. Shorter CS rear ends tend to make manuals feel easier and can also make your bike feel 'twitchy'. A longer CS usually makes for a more stable ride which is ideal for trails/dirt jumps and racing.

Bottom Bracket (BB) sizes you may see vary when looking at frames. There are 4 main BB types for BMX - Mid, Spanish, USA and Euro. Mid tends to be the most commonly used size in modern BMX today. The Spanish BB is mainly used by Fly Bikes as it's a Spanish BMX brand. USA BB's are common on entry level BMX bikes as these are very cheap to manufacture with looseball bearings. USA sealed BB's tend to be quite heavy so most brands now opt for the Mid BB option. Euros BB's are mostly found on race frames nowadays but in the past some brands did use Euro BB's such as Eastern Bikes.

Headsets on most BMX bikes are Integrated campy style however some of the entry level basic bikes have the non-integrated aheadset 1 ⅛" type which can be unsealed or sealed.

Dropouts of the frame are usually 14mm or 10mm. 14mm is the most common with BMX bikes today as many of the wheels have the larger 14mm axles as they're stronger. Many of the race bikes still use 10mm dropouts as the wheels are kept light by using ⅜" axles. Some dropouts now also have integrated chain-tensioners which can be quite handy.

Brakes and where they're mounted can also vary on frames. For example you can have seat stay mounted or chainstay mounted brake lugs. In theory a chainstay mounted brake does provide better performance as the brake force pulls the caliper into the frame. Also, please note some frames have Guiru (Gyro) tabs so if you want to run a gyro brake select a frame with these on the headtube.