Waller BMX - Seating Explained

BMX Seat posts come in three different types - Railed, Pivotal or Tripod. Railed seats are more old school but they're making a come back with some companies upping the rail to titanium keeping things nice and light. Below we shall look at all 3 types of seatpost and will explain in a little more detail how they work.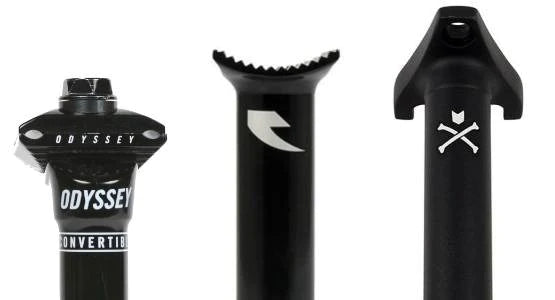 Seats - Each type of seat must be matched with the seat post otherwise they won't be compatible. BMX seats vary with hundreds of different colours and designs but, it's worth thinking whether you prefer the feel or look of a mid or slim seat. Mid seats generally are easier to grip with your knees helping keep your bike stable in the air. A slim seat may work better for dirt/ trail riders or racers who want and keep their seat out the way.

For simplicity some brands have also started to release seat and post combos. This is where the seat is fixed to the post and is purchased as a one-piece seat and post combo.

Seat posts - You must match these with the type of seat you have i.e Pivotal, Railed or Tripod seat. Seat posts come in different lengths ranging from around 135mm to 330mm. BMX seat posts have an outer diameter of 25.4mm which is what most BMX seat posts are today. The old school BMX size is 22.2mm.

Pivotal is the by far the most popular seatpost type currently. Pivotal allows you to adjust the seat angle using the notches located on the post and on the seat. The pivotal type system can be installed using a 6mm allen key through the centre hole in the top of the Pivotal seat. The Tripod type seatpost is quickly becoming popular due to being lightweight and clean looking. Railed seat posts need to be used with a railed seat for compatibility.

Seat clamps - Some frames have integrated seat clamps which will be stated in the descriptions on our site usually. Most frames however are made to run a seat clamp which closes the frame up onto the seat post stopping it moving whilst riding. Some frames may not have a seat clamp or integrated seat clamp at all and these frames require what is called a 'wedge post'.

However, most BMX frames nowadays just have a seat pin which clamps the frame together securing the seat post.