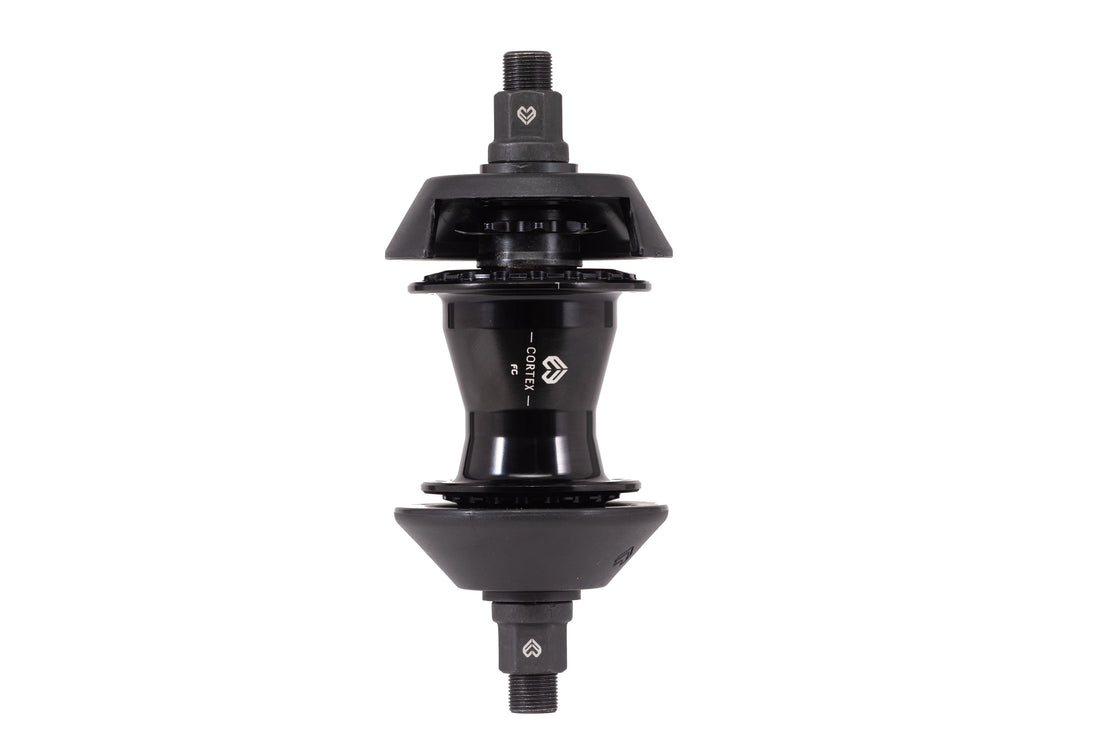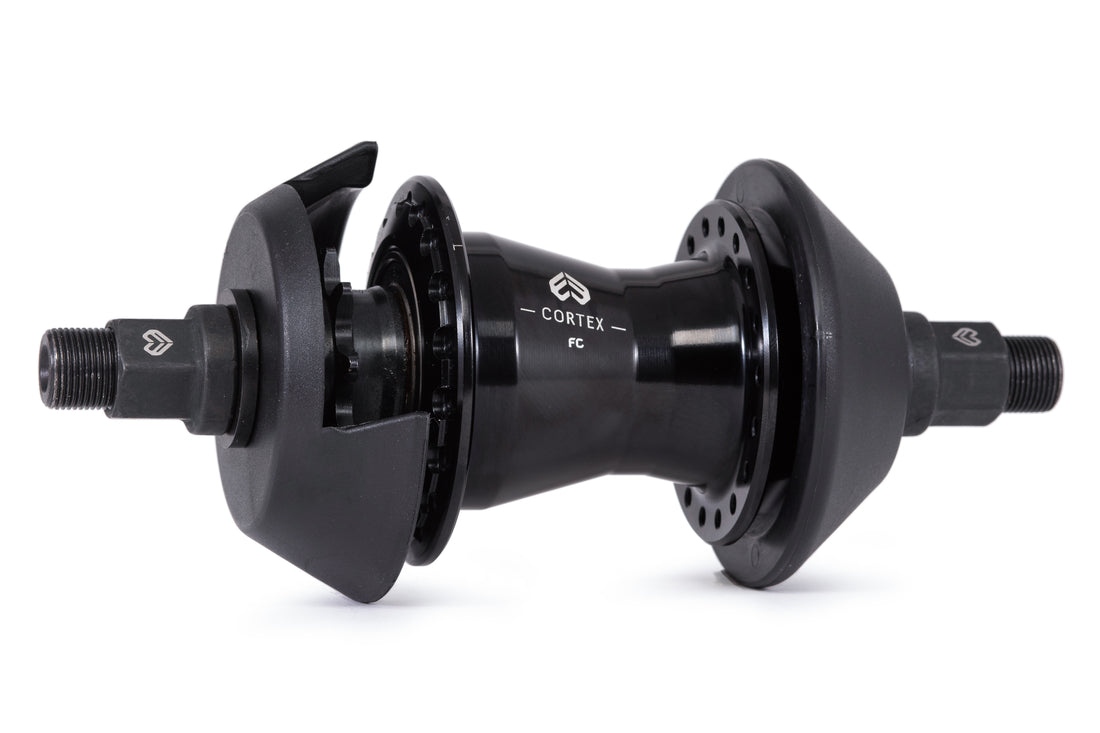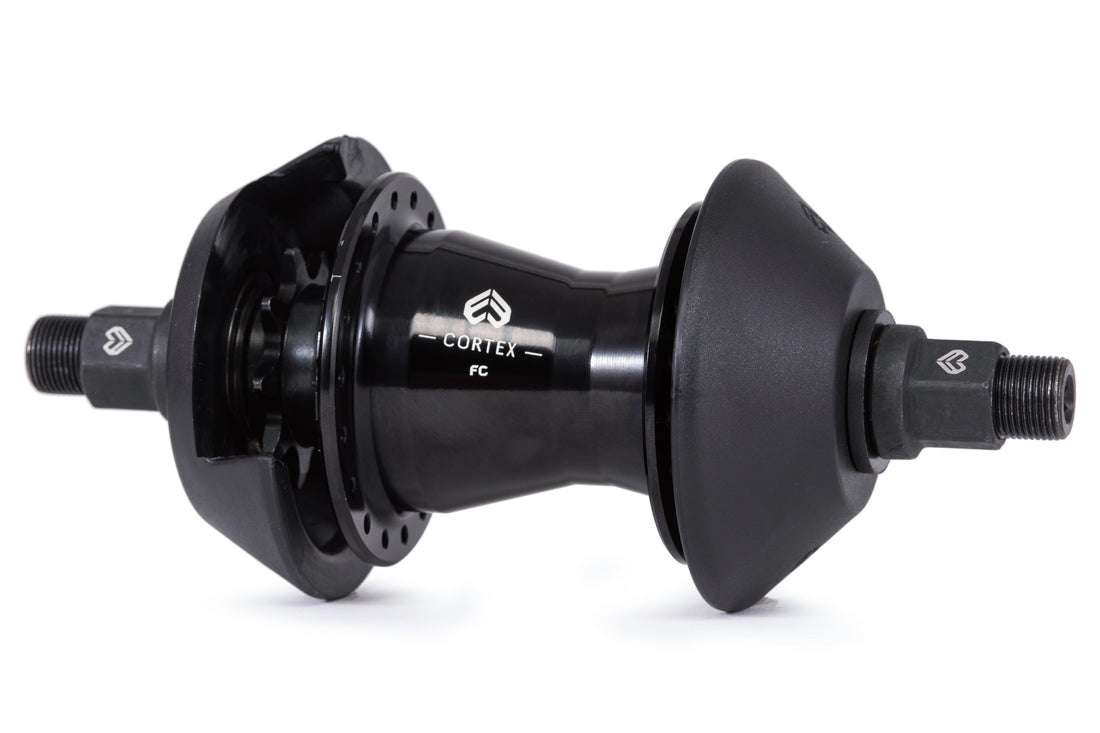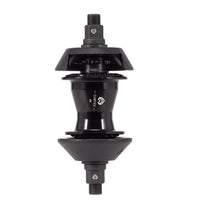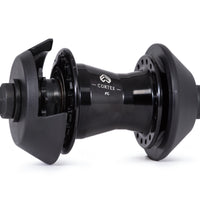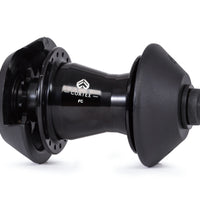 Eclat Cortex Rear Freecoaster Hub
£153.33
£158.33
Sale

• Save
Product Inventory
loading..
Eclat Cortex Rear Cassette Hub
When the Eclat team asked for a simple, durable freecoaster hub with a larger slack setting than most, we got to work on developing something totally new. The Eclat Cortex Freecoaster takes the tried and tested clutch style internals, and addresses ALL of the problems that those hubs had infamously been plagued with in the past.
Lets break it down for you?
"Yes it crankflips!". The first issue was the internal friction mechanism. A typical Clutch system hub uses x2 small balls on springs to apply friction to the inside of the hub shell, allowing the hub to engage. These small balls often wear out, causing damage to the hub and eventually end up in the hub slipping and cease working. Eclat took this system and modified it to use x3 points of friction which is not only incredibly durable but also more stable than other clutch style freecoasters. After research and testing, Eclat worked out that we could apply stable friction to a much larger section of the clutch, rather than just at x2 points like a regular classic clutch style hub. This makes the hub much more durable and will require next to maintenance.
The biggest issue with clutch style freecoasters was always that they generated "play" over time. When the clutch threads into the driver, it acts like a vice and clamps the large drive side hub bearing, and ultimately will cause large loads on that bearing causing it to weaken and become loose. Eclat solved this issue by using a special "c-clip" which sits freely behind the non-drive side bearing, preventing the force of the clutch from damaging the bearings and destroying them. This special part really give the Cortex a huge advantage over other hubs, and enables you to give it as much side impact as possible, without the hub generating play.
The Eclat team asked for a hub with a large slack setting, so the Cortex comes out of the box with just under 1/4 crank of slack, however, this is fully adjustable and can be made much smaller by adding small spacers behind the clutch, which are included with the hub.
After 2 years of heavy testing, Eclat still have team riders riding the Cortex hub as good as it was the day it was laced up.
Material
6061-T6 alloy hub-shell
Axle
14mm hollow bore, male axle, hardened heat-treated crmo
Bearings
2 high-quality bearing and bushing driver, high-performance durable bearings in hub shell.
Spokes
36h
Colors
black, polished
Driver
9t, driver features x2 bearings and polymer bushing for added support
Features
Updated 3 point internals allowing smoother crankflip tricks/ lighter hardware /  allen key inner axle for easy maintenance / RSD or LSD / Adjustable slack / large slack setting pre-installed/ Includes eclat Viper and Gong nylon-fibreglass hubguards /
Weight
671g (23.6oz/ 1.47lbs)
If you need help with BMX Parts then you've come the right BMX store!
Visit our helpful BMX Guide for all the information you need when choosing BMX parts.
Give Waller BMX a call or an email and we will help. Or, click the chat icon for live help from our knowledgeable BMX staff.
- Spend over £50 and get Free UK Delivery
- Spend over £249.99 for Free Next Day UK Delivery
Visit our Shipping and Returns page for more information.
Please read the following regarding availability notices on our product pages;
- Waller BMX, Onboard Skatepark (Ready to dispatch): Good Stock
This means the item is In-stock and ready to leave the Waller BMX store the same day if ordered in business hours.
- Available (2-6 Days Dispatch): Good Stock
This means the item is In stock at our warehouse location and items will be despatched by us in 2-6 working days.
- Please contact us for dates or alternative options
This means we will special order the items from our supplier which usually leaves within 7 days.
WALLER BMX - RIDER OWNED AND RUN BMX STORE IN SHEFFIELD / est 2012
Waller BMX is located in Sheffield, UK. We are lifelong riders with a passion for BMX. With knowledgable staff, we are like the riding encylopedia of BMX - Ask us anything!