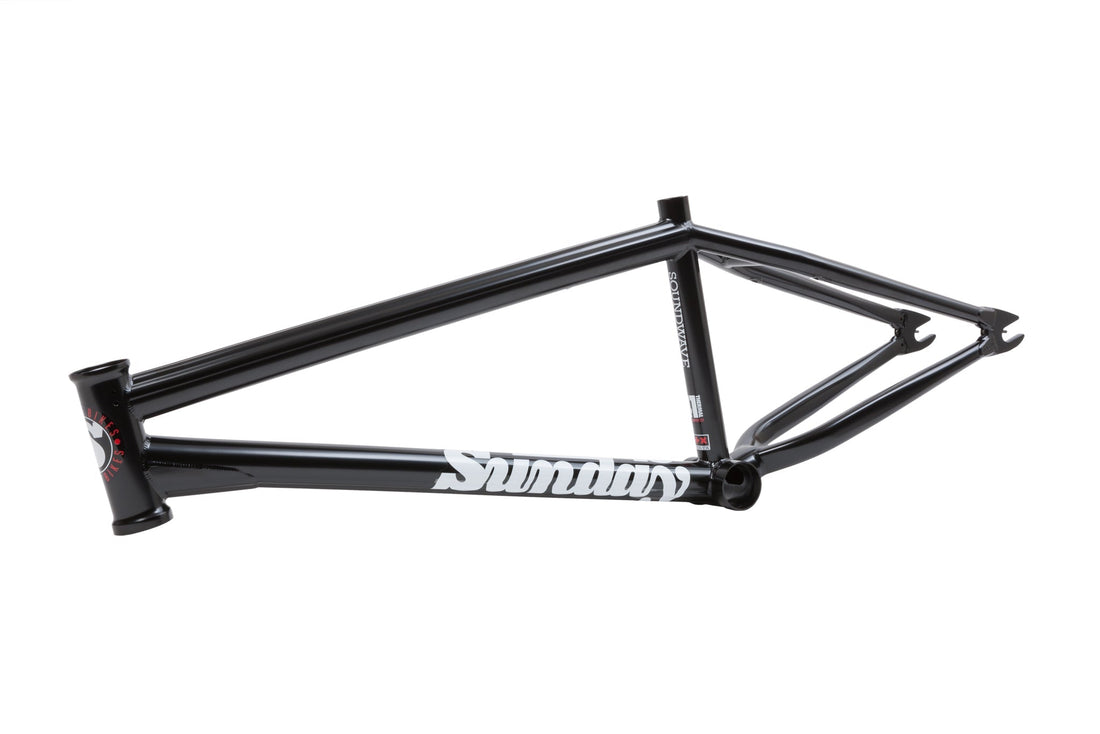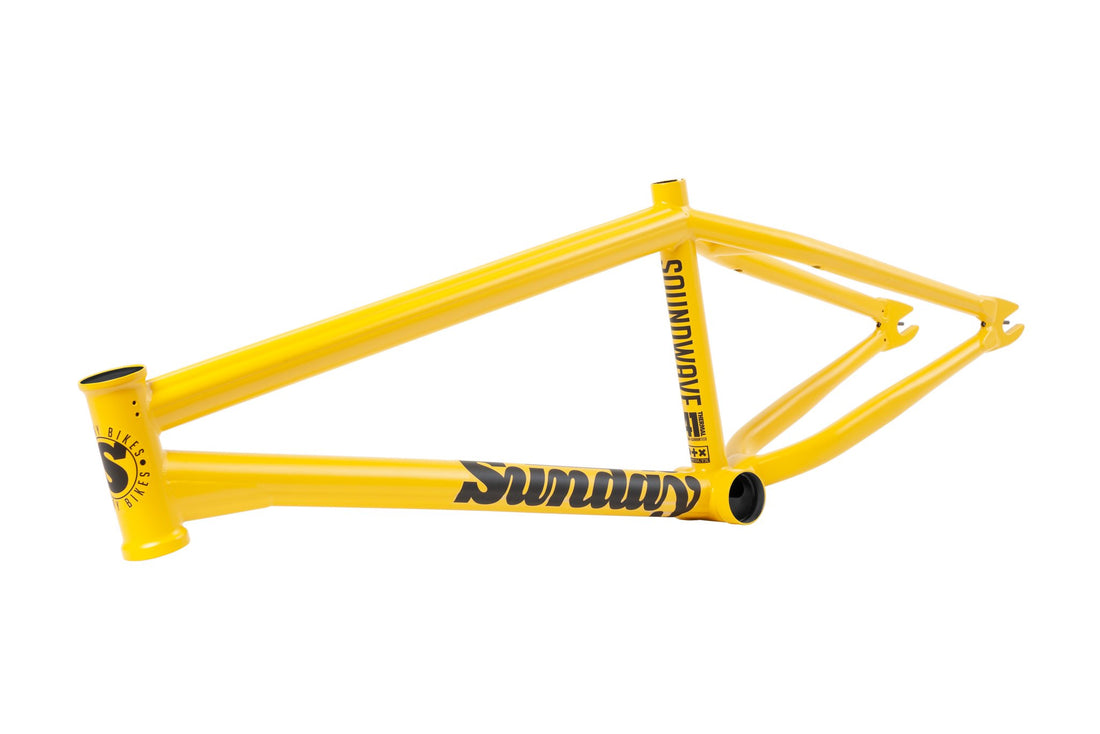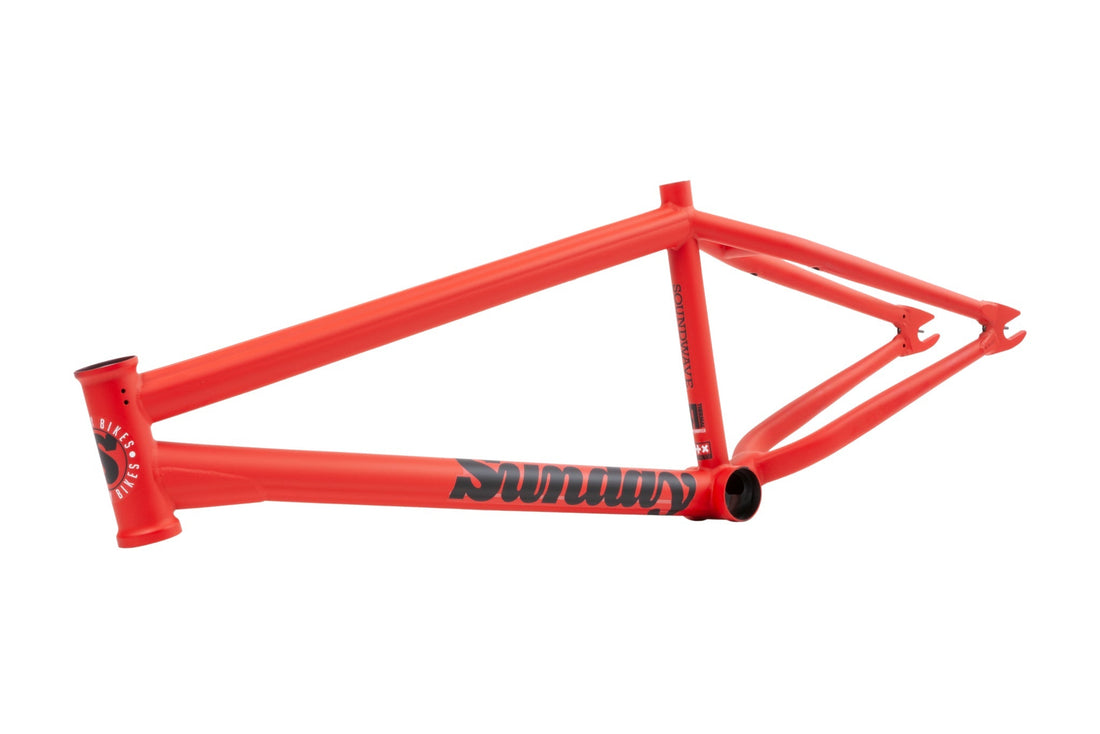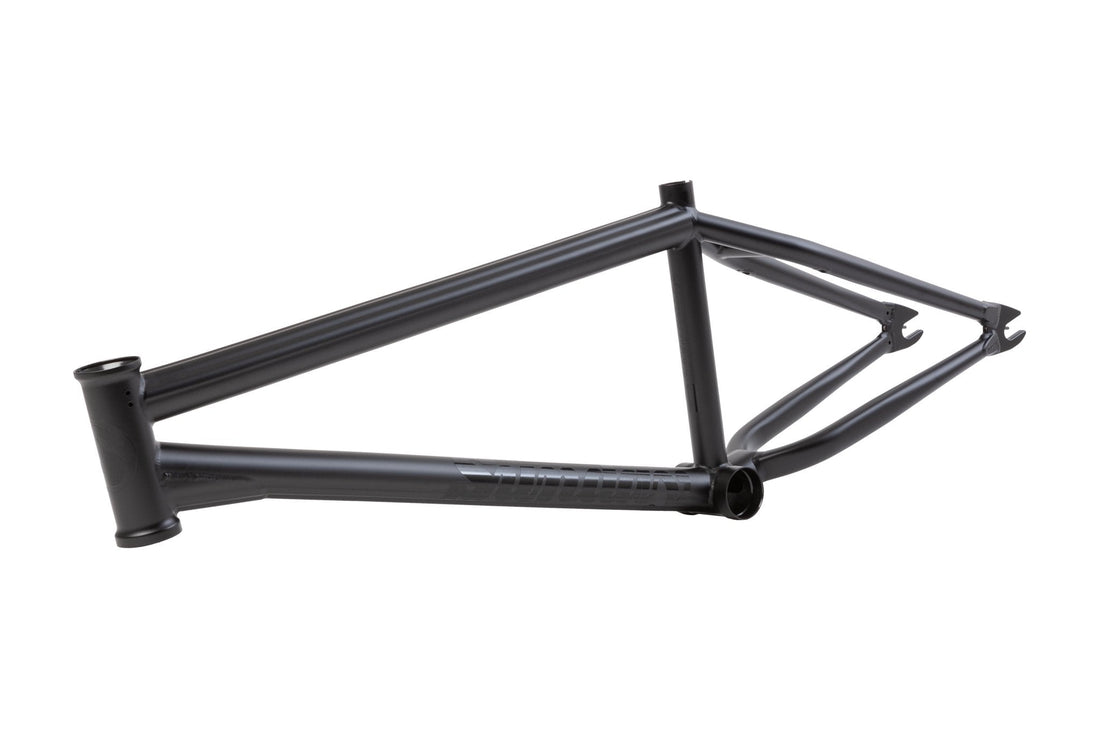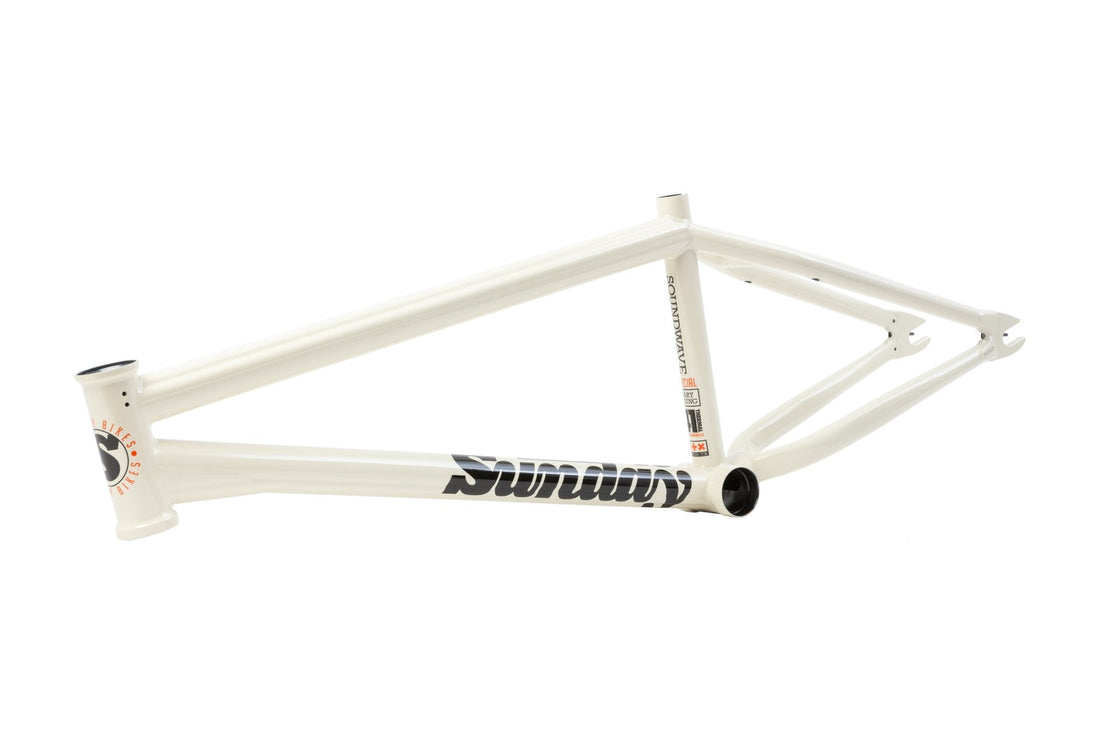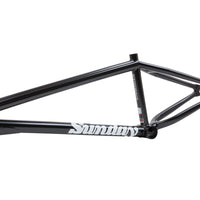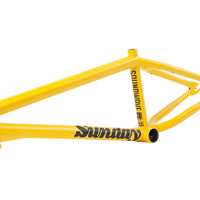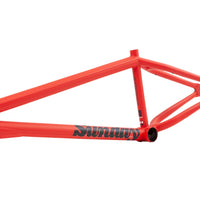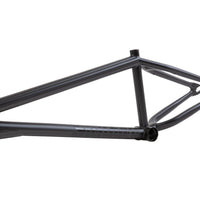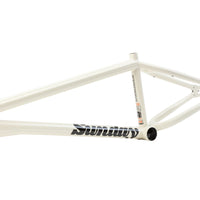 Sunday Soundwave V3 BMX Frame
£358.33
£391.66
Sale

• Save
Product Inventory
loading..
Sunday Soundwave V3 BMX Frame
The Sunday Soundwave v3 frame. Incredibly strong, lightweight and high-tech.
The 3rd version of the Sunday Soundwave frame (v3), is the most advanced frame design that Sunday offers. It's loaded with features like proven hollow dropouts, integrated chain tensioners, Wave down tube and top tube, cable channel guide, angled removable brake mounts, "Director" style wishbone, post-weld machining of the BB & HT, and full 41-Thermal post weld heat-treating throughout.
New for the v3 is a shorter chainstay (now 13.2") and a taller headtube (now 5"). 
The Soundwave v3 is backed by the unparalleled 41-Thermal Lifetime Warranty against bending, cracking and breaking. And it is the go-to frame for team riders like Gary Young, Chris Childs, and Brett Silva.
Features
41 Thermal Processed (Lifetime Warranty):
We are the only company to use Odyssey's proven and trusted 41 Thermal heat treating. This formula has been refined and improved since the late 90's. The proven 41 Thermal process allows our products to be lightweight AND strong. It is also backed by a legendary lifetime warranty against bending, cracking, and breaking.
100% 4130 Chromoly Frame
Butted Seat Tube & Miter Cut Top Tube:
The seat tube is where all three triangles of the frame meet and it is crucial to keep this tube strong.
Boxed Chainstays:
We've updated the chain stays with a "boxed" tube shape that helps fight denting. The new shape enables the frame to have a shorter rear end as well providing clearance for larger sized rear tires. It's not uncommon to see 2.35" - 2.40" tires in the rear on a Soundwave.
Wave Top Tube:
Top tube dents will significantly weaken the front end of your bike, thus shortening it's life. Our double-butted, 1.375" diameter top tube with proven Wave shaping helps fight denting.
Wave Down Tube:
Down tube dents are common with our competitor's frames and they significantly weaken the front end of your bike. Our double-butted, 1.45" diameter down-tube feature our proven Wave shaping to fight denting against contact made from a rail, ledge, coping and whatever else happens to get thrown at it.
Tapered Chain & Seat Stays:
Both chain and seat stays taper to provide a refined and clean look to the frame while still providing strength. The are both angled on the inside for improved chain clearance and weight savings.
Post Weld Machining:
The Mid BB and Headtube is machined to its absolute minimum without sacrificing strength or durability. The machining happens after welding for a precision bearing fit.
Integrated Head Tube:
The integrated headtube is machined to its absolute minimum without sacrificing strength and durability. The machining happens after welding for a precision bearing fit.
Hollow Dropouts with Chain Tensioners:
Hollow 8mm wide dropouts are as light as a solid 5mm dropout, but over twice as strong. There is a small internal chain tensioner to hold the wheel in place as well as simplify wheel removal.
Director Wishbone:
Slimmed-down Director style wishbone is lighter and significantly stronger than previous versions.
Braking Options:
Refined removable brake mounts and cable channel improvements that provides benefits with or without a brake setup.
Rust Proof Coating:
All of our frames are rust-proofed with our "Black Magic" coating before the final finish is applied. It is lightweight and the best anti-corrosion processing that's offered today.
Geometry
Top Tube Length: 20.75", 21", and 21.25"
Head Tube Angle: 75°
Seat Tube Angle: 71°
Chainstay Length: 13.2"-13.5" (prev. 13.5"-13.75")
Bottom Bracket Height: 11.5"
Standover: 9"
Tire Clearance: 2.4"
Head Tube: 5" (prev. 4.75")
Weight: 4.9 lbs
If you need help with BMX Parts then you've come the right BMX store!
Visit our helpful BMX Guide for all the information you need when choosing BMX parts.
Give Waller BMX a call or an email and we will help. Or, click the chat icon for live help from our knowledgeable BMX staff.
- Spend over £50 and get Free UK Delivery
- Spend over £249.99 for Free Next Day UK Delivery
Visit our Shipping and Returns page for more information.
Please read the following regarding availability notices on our product pages;
- Waller BMX, Onboard Skatepark (Ready to dispatch): Good Stock
This means the item is In-stock and ready to leave the Waller BMX store the same day if ordered in business hours.
- Available (2-6 Days Dispatch): Good Stock
This means the item is In stock at our warehouse location and items will be despatched by us in 2-6 working days.
- Please contact us for dates or alternative options
This means we will special order the items from our supplier which usually leaves within 7 days.
WALLER BMX - RIDER OWNED AND RUN BMX STORE IN SHEFFIELD / est 2012
Waller BMX is located in Sheffield, UK. We are lifelong riders with a passion for BMX. With knowledgable staff, we are like the riding encylopedia of BMX - Ask us anything!